Quotes J.V.
"My work seems realistic. On behalf of a press release I was asked to write a piece about my work. I heartily dislike that. Artists shouldn't talk to much about their work, I think. I believe it would be much healthier and cleaner if the gallery or artists association would write a piece about why they have invited this particular artist.

But anyway, I have been asked to tell about what I paint. The most entertaining and adequate response to that question is: 'nothing'. I paint space. Preferably empty space. The work seems realistic... The Malieveld, the Moerdijk bridge, the Utrechtse baan, Texel, the full stadium of ADO... nobody has to look too hard to recognize the picture. It's not a realistic work in the classical sense. I do not go to these places with an easle and a beret to get the landscape onto canvas.

I paint from memory. Most probably hoping that the memory has erased all the needless details. Even though I seem to remember a striking amount of nonsense, once I start painting. I work with acrylic paints, and I hope that something of the joy I feel during the painting of all this emptiness seeps out of the canvases, and that the people that will visit this exhibition will enjoy it. " J.V.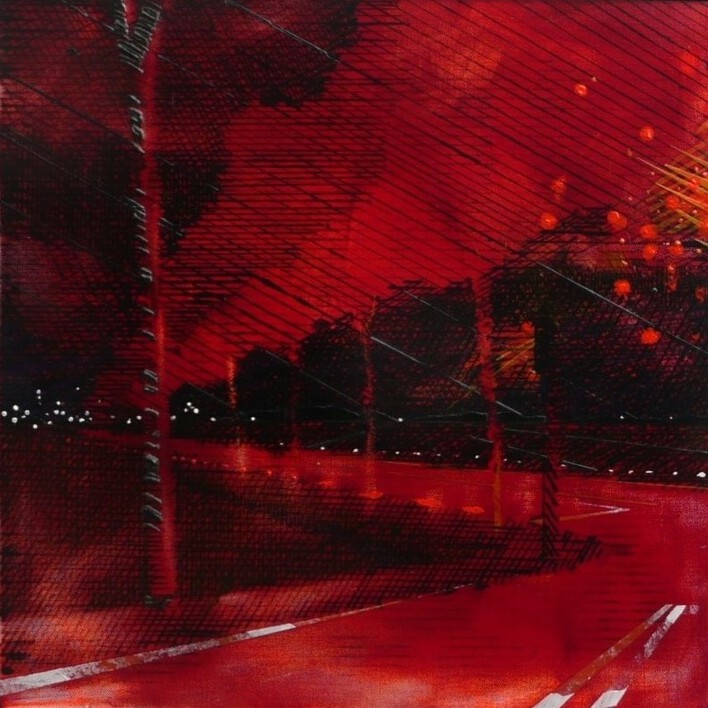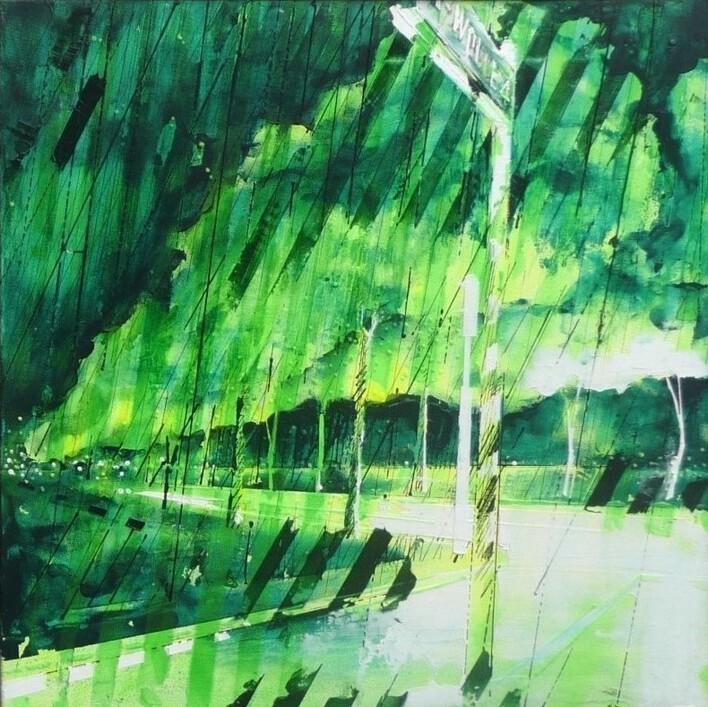 The Middle of Nowhere
"The work is accessible. The spaces that I paint are immediately recognizable. For example, the view on the pond in the Paauw from the town hall, it's all visible and recognizable. Even 'The Middle of Nowhere' is a picture from a point between Hazerswoude and Boskoop that is traceable. They are spaces that I have been before. And the way they have been saved in my memory is the way I painted them. For a good composition you sometimes have to leave out thirty floors from an apartment building, often that happens completely subconscious." J.V.
"To me it's not about a precise reproduction of reality. It's more about the reproduction of fields of brussel sprouts until the horizon... the memory of those red-green 3D-glasses that appeared everywhere a hundred years ago, so we could all see in 3D, of which I remember it didn't impress me. What did leave a lasting impression on me was a poem by Herman Finkers:
A stoplight goes to red,
A stoplight goes to green,
In Almelo there's always something to be seen.
And so that's in there too..." J.V.